---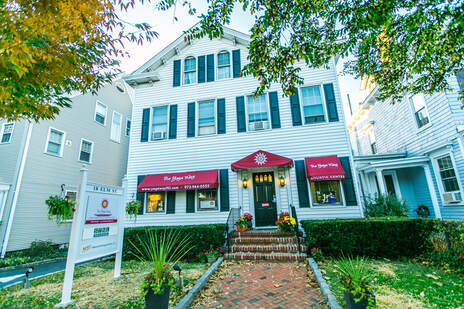 About Our Center
The Yoga Way Therapy Center is a Private Practice and a Holistic Center located in Morristown, NJ. We specialize in treating children with developmental disabilities, spinal deformities, orthopedic and acquired disorders, as well as various other special needs to optimize a child's functional potential. Our therapeutic services are also offered to adults. The practice consists of New Jersey Licensed Professionals and Certified Teachers. Our therapists all carry dual Yoga certifications and professional degrees in Physical Therapy and Occupational Therapy. Our practitioners utilize Neurological Integrative Pediatric philosophy and a strong collaborative model of interdisciplinary experience and communication. Therapeutic Yoga is used individually in order to address one's needs while making therapy enjoyable and teaching life-long strategies.The practice strives to provide our families with all the support and prompt attention to benefit the child's smooth and enjoyable experience.

​The mission of our center is to create a safe, supportive and soul nurturing place to practice and study yoga therapy for each and every individual, to encourage life-long learning, foster creativity and self-understanding, and to promote a happy and healthy lifestyle. Students receive services in private therapeutic session and/or in small groups. They all discover the joy of movement, peace, joy and love of life. For many families with children with special needs, it's a life changing experience.
---
"When you do things from your soul, you feel a river moving in you, a joy." - Rumi
​
---
| | |
| --- | --- |
| | Learn about Yoga Therapy and how yoga can be used as an intervention for the reduction of symptoms from anxiety, hyperactivity and depression to nervous system regulation and myofascial release for children with special needs in an interview with Dr. Kofman |
---
Why Yoga Therapy?
​​I am always amazed at the transformations in myself and every child after Yoga Practice. The more I learn and experience the more I want to share those unique benefits of yoga therapy with children.

I invite your children to experience a special journey where they will learn to connect their Mind, Body and Spirit via yoga practice. By experiencing yoga therapy, they will gain strength, stamina, and coordination. They will develop motor planning, increase concentration and focus, decrease anxiety with exams, learn to relax, improve their ability to fall asleep, and boost digestion. Children become more organized and develop self control and confidence needed to succeed in our Western society.

I hope to bring the joy of yoga to as many children as possible in Morristown and beyond.

Om Shanti (Peace),
Yana

Non-Competitive Physical Activity

Today, people usually participate in competitive physical activities. Yoga is wonderful because it allows one to learn to care for and condition her/his body without the stress of competition. In addition, yoga complements other sports, which may overuse certain muscle groups or not provide adequate stretching prior to participation.
---
Come Meditate with Me
Dr. Yana's Children's Book

A perfect read to share and connect with your little one, this beautifully illustrated book captures the peace and calm that arises out of mindfulness.
"I am so very grateful / for this mind to take a break!"
"With gratitude warmheartedness / I start my day with ease."

This meditation serves as a reset button, guiding children back to focus in the here and now. The present moment is the only place where creativity and inspiration arise. Through its lyrical prose, Come Meditate with Me provides a way for children to feel the importance of grounding in the present moment, creating stillness in presence and silence in mind, which simply means doing nothing with no intentions. Just being. Making time each day to settle into the present moment serves as a deep resource to self-healing, joy and love for both parent and child.

---
Biography of Founder
Dr. Yana Kofman is a Licensed NJ Board Certified Physical Therapist, Certified Yoga Therapist, and Certified Hatha Yoga Teacher with over 22 years of combined experience treating all ages, from infants to adults. She is the founder and a clinical director of a private practice, Pediatric Therapy & Yoga of Morris, also known as The Yoga Way Therapy Center, located in Morristown, NJ.

Dr. Kofman utilizes a neuro-integrative therapeutic approach in her sessions, incorporating breathwork, positioning, alignment, nervous system regulation, myofascial release therapy and biomechanical. Her focus and dedication to practice and incorporate whole child approach principles and multi-system approach with clients. In yoga therapy sessions, she addresses structural imbalance, including strength, flexibility, coordination, and gross and fine motor skill acquisition. She guides clients of

all ages in developing optimal oxygenation and correct breathing techniques to aid in nervous system regulation to help in calm, relax, decrease anxiety and reduce stress.

Dr. Kofman is a published author and researcher with an interest in pediatric yoga therapy as an intervention for the reduction of symptoms of anxiety, hyperactivity and depression in children and adolescents.

Dr. Kofman received her Masters and Clinical Doctorate Degrees in Physical Therapy Magna Cum Laude from UMDNJ. She is a member of an

APTA

, NJPTA, and

IAYT

C-IAYT, and a

Licensed Practitioner

of Yoga for the Special Child®.
---
Out of Network Insurance Practice Provider

We are an Out of Network Practice Provider and can assist our clients with billing insurance.
Our center will verify your eligibility from a copy of your insurance card and subscriber's date of birth.
Full payment is expected at the time of service. We will provide you with an invoice that you can submit to your insurance provider.
For more information, please contact our center at 973-998-8700.​