Services

Physical Therapy Evaluations
Physical Therapy Treatments
Occupational Therapy Evaluations
Occupational Therapy Treatments​
Private Therapeutic Yoga Sessions
Small Group Yoga Classes
Consultations
Workshops/Information Sessions

Out of Network Insurance Practice Provider

We are an Out of Network Practice Provider and can assist our clients with billing insurance.
Our center will verify your eligibility from a copy of your insurance card and subscriber's date of birth.
Full payment is expected at the time of service. We will provide you with an invoice that you can submit to your insurance provider.
For more information, please contact our center at 973-998-8700.​

Diagnoses

ADHD/ADD
Adoption Concerns
Anxiety Disorders
Asperger's Disorder
Asthma
Autism Spectrum Disorder
Blount's Disease
Cerebral Palsy
Chronic Interstitial Cystitis
Concussions
Container Baby Syndrome
Developmental Coordination Disorder (DCD)
Developmental Delay
Diabetes
Down Syndrome
Early Intervention OT/PT

Gastrointestinal Issues
Genetic Disorders
Infant Prematurity
Infantile Brachial Plexus
Learning Disabilities
Microcephaly
Muscular Dystrophy
Orthopedic Deficits
Plagiocephaly (Flat Head Syndrome)
Scoliosis
Sensory Integration Dysfunction
Spina Bifida
Spinal Deformities (Scoliosis)
Spinal Muscular Atrophy
Traumatic Brain Injury
Yoga for the Special Child Method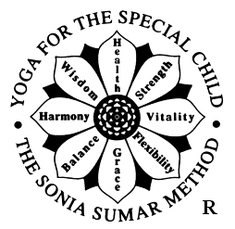 The Yoga for the Special Child Method is practiced on an individual basis or in group setting in a non-competitive manner with emphasis on harmony and optimal effort. It has shown to enhance age appropriate gross motor skill acquisition and guide each child to find their own inner peace and serenity. The method is a step by step, therapeutic hands-on approach. The system integrates, age and developmentally appropriate, hatha yoga asanas (poses), eye exercises, specialized breathing exercises, music and sound therapy, and relaxation techniques.

Our certified therapists are very grateful and ever inspired by their Teacher, Sonia Sumar, to apply Yoga's amazing benefits to each and every child. They hope to continue discovering each child's unlimited hidden potential through mind, body and spirit.

Om Shanti, Shanti, Shanti.

Peace and Love, Light and Joy.


---
"Yoga is possible for anybody who really wants it. Yoga is universal." - Sri Krishna Pattabhi Jois